What is Ulthera System?
Ulthera System is a focused ultrasound with visualization for non-invasive lifting at the SMAS level.
The ultrasonic beam penetrates into the deep layers of skin (about 4.5 cm), forming a "tug" in the tissues and providing a persistent lifting effect for several years ahead.
Unlike any other non-surgical methods Ulthera System affects collagen and elastin fibers of the superficial muscular aponeurotic layer (SMAS). With the exception of surgical face lifting, there have been no other methods of working with this layer previously.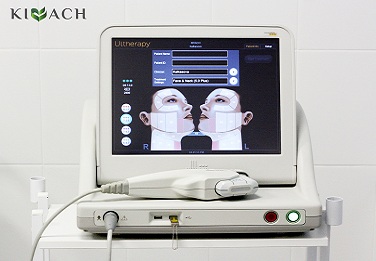 Ulthera System apparatus functions
Ultrasound image of deep layers of skin: epidermis, dermis and subdermal layers (scanning to a depth of up to 8 mm).
Therapeutic mode: affecting targeted structures by means of focused ultrasound, coupled with the visualization (patented Ulthera DeepSEE TM technology).
Indications for the procedure
Ulhera Ultrasonic Lifting Procedure is used to correct manifestations of gravitational ptosis (drooping of face and neck tissues):
sagging eyebrows, excess skin on eyelids
flattening of the middle part of the cheek
deepening of the nasolabial folds
drooping corners of the lips
loss of definition of the face-shape
loss of definition of the lower jaw line
drooping and sagging of the skin under the chin and in the neck area
Ultrasound lifting can be used not only for corrective purposes but for prevention of similar age changes as well. The procedure is recommended for the patients looking to significantly lift their skin without resorting to surgical methods.