How is plasma therapy applied in orthopedics and neurology?
Plasma therapy is a method of treatment based on injecting platelet-rich plasma derived from the patient's blood. It activates regeneration of tissues without using any drugs. Other effects are:
Better regeneration processes at cellular level.
Stimulation of formation of connective tissue cells (fibroblasts), bone cells (osteoblasts), cartilage cells (chondrocytes).
Boosting collagen synthesis and formation of new blood vessels in soft tissues.
Improving blood circulation, oxygen metabolism, and, as a result, cellular nutrition.
This method is widely used in different areas of medicine, including cosmetology.
In orthopedics and neurology this method is used to restore cartilage tissue, relieve pain and inflammation, improve joint and spine mobility.
Plasma therapy helps make the treatment 2-3 times shorter and minimize the dosages of drugs. In some cases, it is possible to stop taking medications completely.
Plasma therapy at Kivach Clinic
Our specialists use the Endoret method. This technology was developed and patented by Spanish Biotechnology Institute. It uses the plasma derived from the patient's blood and rich in growth promoting substances. The technology is based on the activation of the patient's platelets, which helps to speed up tissue regeneration.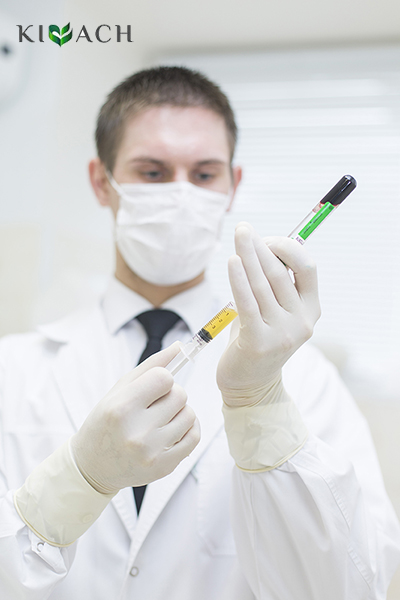 Indications
Osteoarthritis, osteoarthrosis.
Periarthritis.
Tendinopathy.
Ligament and muscle injuries.
Joint contracture.
Tunnel syndrome.
Rehabilitation after bone fractures, bone prostheses, injuries.
Osteochondrosis.
Polyneuropathy.
Sports injuries.
Results
Relieving pain and improving the mobility of joints, limbs, spine.
Relieving muscle cramps.
Improving local blood circulation.
Speeding up regeneration processes.
Remission.
About the procedure
Recommended course: as defined by a doctor.
Medications used: platelet-rich plasma derived from the patient's blood.
Periodicity: as defined by a doctor.
Effect: can be evaluated after the first procedure; becomes more visible after 2-3 procedures.
What to expect during the procedure?
This treatment requires several sessions. The number of sessions and their periodicity are determined by a doctor.
The procedure starts with drawing the patient's venous blood (about 10-50 ml). The exact amount depends on the condition of joints and the spine.
The blood is put into a centrifuge, where platelet-rich plasma is separated from other blood components. This plasma is then injected in soft tissues that surround the joint, into the spinal column or the joint cavity.
Plasma starts to work immediately. It stimulates regenerative processes, which leads to the recovery of cartilage and ligament tissue, reduced inflammation, and, as a result, reduced pain.
A number of such sessions helps to improve joint and spinal mobility and bring them in the condition they were in before the disease. The procedure is performed using topical anesthesia.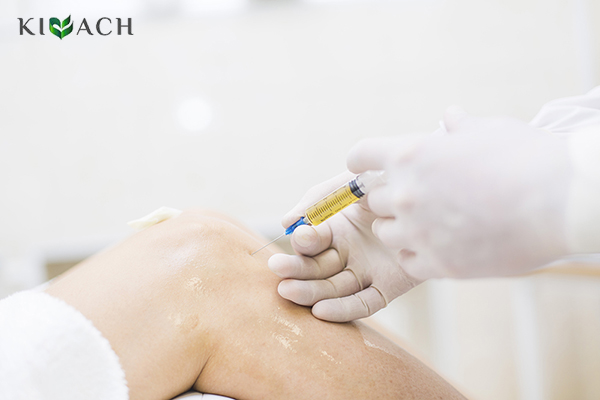 Plasma therapy demonstrates best results when combined with other treatment methods, such as massage, ozone therapy, physiotherapy, osteopathy, kinesiotherapy, spectral phototherapy, medication therapy and therapeutic exercises.
During the consultation a doctor will listen to you wishes, conduct an examination and order additional tests should they be necessary.
Contraindications
Cancer.
Decompensated diabetes.
Blood disorders.
Acute skin inflammation.
Immunosupression.
Allergy to pro- and anticoagulants used when making platelet-rich plasma.
Fever.
Pregnancy, lactation.
Question-answer
When can the result be evaluated?

The first results will be seen after the first procedure. Over several sessions the effect will be stronger and will be the most visible several days after the end of the treatment.

What result can be expected?

Relieving pain and improving the mobility of joints, limbs and spine.
Relieving muscle cramps.
Increased local blood circulation.
Faster regeneration.
Remission.

Is the procedure safe?

The procedure is absolutely safe. It uses the patient's plasma without any other substances.

Is the procedure painful?

The procedure is performed using topical anesthesia.

How to prepare for the procedure?

No special preparation is required. It is recommended to avoid alcohol 24 hours before and after the procedure.

How long does the rehabilitation period last?

There is no rehabilitation period.

Are complications possible?

There are no complications. There might be short-term reactions typical for injections – hyperemia (redness) for several hours, seldom there is tenderness in the place of injection.

What ensures that the procedure is successful?

Qualified doctors with extensive practical experience.
Advanced medical equipment.
Certified drugs and disposable materials.
Compliance with the standards of medical care.