What is magnetotherapy?
Magnetic therapy is an impact of a constant or variable low-frequency magnetic field on the body for the treatment and prevention of many diseases. Physical and chemical processes that help to relieve pain, inflammation, swelling, expand the lumen of the smallest vessels, improve the permeability of their walls for nutrients occur at the molecular level during the procedure. This leads to the nutrition enhancement of all organs (brain, heart, kidneys, etc.). Also, blood properties, hormonal level and metabolism experience a significant enhancement.
Magnetotherapy in Kivach Clinic
In Kivach Clinic, the procedure is carried out using a magnetotherapy complex of new generation "ALMA", which allows to simultaneously affect all systems and organs of a patient with a rotating magnetic field. The inductor of the ALMA apparatus is equipped with a sensor for measuring the strength of the magnetic field, which ensures the safety, control and accuracy of the preset treatment parameters. Being essentially a natural factor, the magnetic field has pronounced therapeutic properties and at the same time it acts very gently on the body.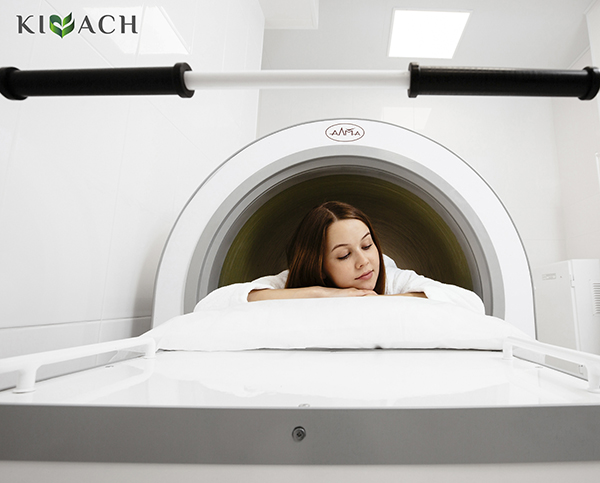 Indications
chronic inflammatory diseases of various organ systems in remission;
cardiovascular diseases: hypertensive disease of the I-II stage, hypotension, ischemic heart disease, myocardial dystrophy, postinfarction cardiosclerosis;
nervous system diseases: consequences of acute disorders of cerebral circulation, craniocerebral trauma, neurosis, neurocirculatory dystonia, sleep disorders, psychoemotional stress, depression, anxiety, apathy;
gastrointestinal tract diseases: peptic ulcer, gastritis, hepatitis, colitis, pancreatitis, cholecystitis;
gynecological diseases of inflammatory and neoplastic nature: adnexitis, salpingoophoritis, small pelvis adhesive disease, ovarian cyst, infertility, uterine fibroids, fibromatosis, endometriosis, cervical erosion, mastopathy, climacteric syndrome;
urological diseases: urolithiasis, prostatitis, enuresis, sexual weakness, erectile dysfunction;
ENT organs and respiratory system diseases: bronchitis, bronchial asthma, pneumonia, rhinitis, sinusitis, otitis, laryngitis, tracheitis, pharyngitis;
endocrine system diseases:diabetes type II, thyroid gland disease;
cardiovascular diseases: varicose veins, thrombophlebitis of superficial and deep veins, lymphostasis, trophic disorders, obliterating atherosclerosis and endarteritis of the lower limbs;
decreased immune status;
spine and joint diseases: osteochondrosis, arthrosis, arthritis of various localization;
prevention of oncological diseases
Results
improves blood circulation and lymph stimulation
normalizes blood pressure
normalizes sleep
restoration of peripheral and central nervous system functions
improvement of metabolic processes
antiedemia
activation of the antitumor protection system
reduction of medical drugs dosage taken or complete withdrawal of admission
immunity stimulation
efficiency increase
rejuvenating effect
normalization of human electromagnetic fields