What is blood irradiation therapy?
It is a treatment method that uses laser energy as an acting element. This method is based on the effect that photon energy has on the blood. Blood irradiation therapy stimulates blood cell regeneration, which has a positive effect on biochemical and physiological processes. As a result, there is visible improvement in the condition of both the organs and systems and the body as a whole.
Blood irradiation therapy at Kivach Clinic
Blood irradiation therapy is included in our premium and exclusive body detox programs. We use a Russian made device that has no analogues in the world. The device is used to irradiate blood using a semiconductor laser.
Indications
Chronic disorders of different body systems (musculoskeletal, cardiovascular, digestive, nervous, respiratory, endocrine, genitourinary).
Degenerative diseases.
Menstrual disorders, infertility, preparing for pregnancy.
Skin disorders (eczema, acne, psoriasis, etc.).
Chronic fatigue syndrome, stress, low work performance.
Prevention of aging (age-related changes of the skin, hair, nails).
Results
Immunity and antioxidant system of the body are stimulated.
Blood and lymph flow are improved, blood viscosity and microcirculation are normalized, blood-forming processes are activated.
Inflammation, pain and swelling are relieved.
Tissues are restored.
"Bad" cholesterol levels drop.
It becomes possible to lower the dosage of drugs.
The risk of stroke or heart attack is lowered.
Headaches and vertigo are relieved.
Normalization of sleep.
Memory, work performance and physical activity are improved.
About the procedure
Recommended number of procedures: as ordered by a doctor.
Periodicity: as ordered by a doctor.
Effect: can be evaluated after a course of therapy.
What to expect during the treatment?
The treatment is carried out over the course of several sessions, the number and duration of which is defined by a doctor.
The patient lays down on his/her back. Blood pressure and heart rate are measured. A disposable sterile needle with a light-emitting diode is inserted into the patient's cubital vein or placed over it. The needle is connected to a laser-emitting source via a special tube. Individual settings, such as laser intensity and time, are set on a device. The device switches off automatically.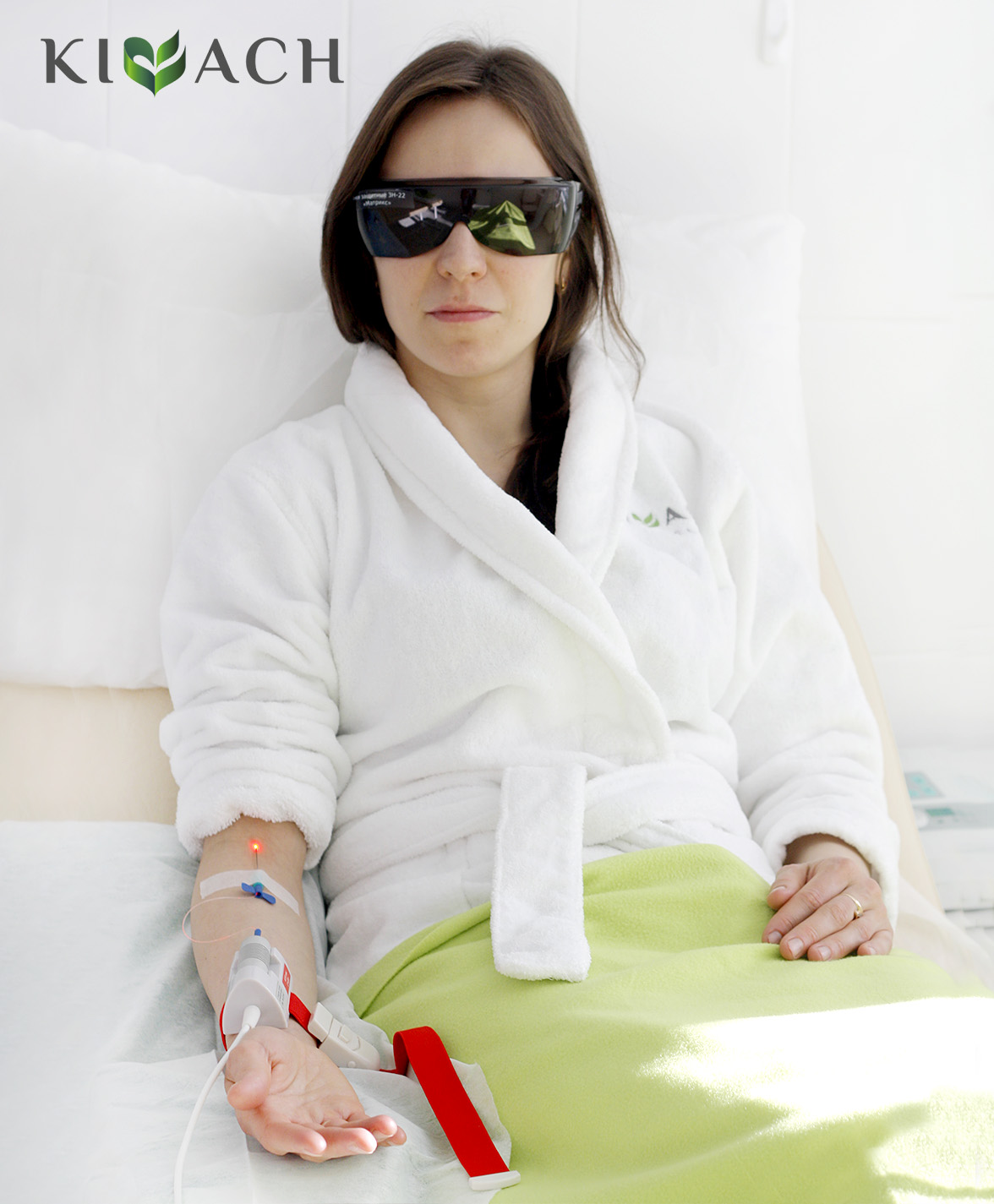 Photon energy spreads in the blood vessel and affects the normal condition of molecules by separating the electrons. As a result, molecules start the regeneration process and return to the normal condition by regenerating affected areas. This simple reaction improves the condition of cells, tissues, organs and systems of the body.
Other elements do not enter the body during the therapy. It eliminates the chances of developing complications after the treatment. Blood irradiation does not change the nature or biochemical reactions in the body, it gently corrects some of them, thus stimulating and supporting homeostasis.
During a free consultation the doctor will ask you about your complaints, carry out an examination, order additional tests if necessary, listen to your wishes and offer an adequate treatment course.
Contraindications
menstruation, bleeding;
hypotension (blood pressure less than 90/60 mm Hg);
thyrotoxicosis;
fever;
acute purulent processes (gangrene, abscess);
malignant tumors;
tuberculosis;
epilepsy;
alcohol or drug intoxication;
thrombocytopenia;
hemophilia;
the intake of drugs that affect blood clotting;
high sunlight sensitivity;
severe medical conditions that require inpatient treatment.
Question-answer
When can the result be evaluated?

The result can be evaluated after a course of therapy.

What result should be expected?

Health improvement as a result of normalization of all systems of the body (cardiovascular, digestive, nervous, etc.).
Immunity improvement, and, as a result, lowering the risk of the occurrence of a disease.
Increased effect of drug intake as a result of normalizing cell response to drug intake.
Boost of the reserve capacity of the body, lowering the risk of developing serious diseases.
Better hair, skin, nails condition.

Is the treatment safe?

Blood irradiation therapy is an absolutely safe hardware-based method. It does not interfere with the functioning of organs and systems of the body, and produces an effect only on a molecular level. Unlike many health-improving treatments, blood irradiation does not transmit any foreign substances into the body.

Is the treatment painful?

The patient does not feel any discomfort or changes in his/her condition. In some cases, blood pressure might lower slightly, and minor dizziness and psychological discomfort might occur. This is due to one of the effects of blood irradiation - spasmolytic.

How to prepare for the procedure?

No special preparation is required. Blood irradiation therapy can be done on the day of the arrival to the clinic after an additional examination. A doctor will study a patient's medical history and complaints, which will allow for making a decision whether the treatment is necessary.

How long does the rehabilitation period last?

There is no rehabilitation period.

Are complications possible?

There are no complications.

What ensures that the procedure is successful?

The treatment is ordered by qualified doctors.
The treatment is carried out by certified medical staff.
Certified and advanced equipment is used for the treatment.
Compliance with the standards of medical care.